How to Induct a Student
Although not required, the NAEHS charter encourages ten or more new members each year. NAEHS is not intended to recognize a single "Outstanding Student" yearly.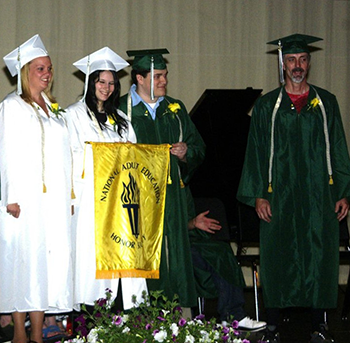 A combined charter for small programs that can recognize only a few students annually is available. Contact NAEHS at (859) 685-8559 for details.

An induction ceremony is required; however, each AE program determines how and when it will be conducted. Many schools induct new NAEHS members as a part of their formal graduation exercises while others have a separate NAEHS induction ceremony. Some award memberships monthly in a "Student of the Month" format. Suggestions for each are available from NAEHS headquarters.

When inducted, each honoree receives a handsome 8 1/2 x 11 NAEHS certificate suitable for framing. The certificate has an embossed gold seal, his/her name, Adult Education Program, date of award and is signed by school personnel.

Inductees also receive a gold, black and white lapel pin. Part of the new members' induction may include an impressive "Pinning Ceremony", often the highlight of the induction ceremony, by having a family member or teacher do the honors. This memento is proudly worn by adults across the country.
All new NAEHS members receive a letter of recommendation from their NAEHS chapter. Students should be encouraged to attach a copy of this letter when seeking employment or promotion. The letter emphasizes demonstrated dependable attendance, cooperation and work ethic. Potential employers seek these attributes.
Honor Society members receive a letter of recommendation for financial assistance should they want to continue their educations. This letter emphasizes attributes that demonstrate a potential for success in and education environment.

Each year your program will receive a Roster showing all the students who were inducted into the National Adult Education Honor Society. This roster when displayed in your building will encourage others to strive for NAEHS membership and be a source of pride for all honorees.